The Victoria & Albert Museum has announced that Alexander McQueen's Savage Beauty exhibition is coming to London in 2015. This is the first and largest retrospective of McQueen's work to be presented in Europe.
This exhibition was a smash when it opened in New York in 2011, becoming one of the Metropolitan Museum of Art's most visited shows. It was a bravura sweep, featuring work that dates back to McQueen's graduate show at St Martin's in 1992 and culminating in pieces from his unfinished show in 2010. The curator garnered 100 looks and 70 accessories, mostly from the catwalk, along with a handful of the couture pieces McQueen designed while he was at Givenchy.
Martin Roth, V&A Director, said: "I am thrilled to announce that the V&A will bring this wonderful exhibition to London to celebrate the extraordinary creative talent of one of the most innovative designers of recent times. Lee Alexander McQueen was brought up in London, studied here and based his globally successful McQueen fashion brand here – by staging the exhibition at the V&A it feels like we are bringing his work home."
Sarah Burton, Creative Director Alexander McQueen,said: "Savage Beauty is a celebration of the most imaginative and talented designer of ourtime. Lee was a genius and a true visionary who pushed boundaries, challenged and inspired. He believed in creativity and innovation and his talent was limitless." The V&A's presentation of the exhibition is being made possible with the cooperation of Alexander McQueen and will be in partnership with Swarovski, and supported by American Express.
Tickets for the exhibition running from March 14 to July 19 2015 can be purchase through the Victoria & Albert Museum box office.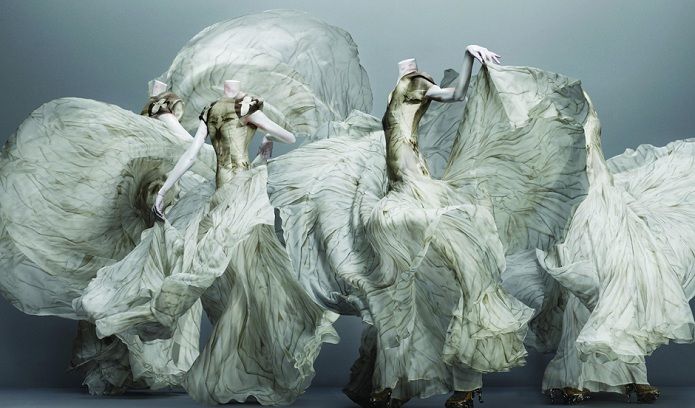 Alexander McQueen (British, 1969–2010). Dress, autumn/winter 2010–11. Courtesy of Alexander McQueen. Photo: © Sølve Sundsbø / Art + Commerce.
END
Would you like to explore London and beyond with a highly qualified and enthusiastic Blue Badge Tourist Guide? Use our Guide Match service to find the perfect one for you!