Contributing to London as a cultural mecca are 200+ museums, many of which can be explored with a knowledgeable Blue Badge Tourist Guide. Each has permanent collections as well as major exhibitions to help draw in visitors. Highlighted below are 11 major museum exhibitions happening in London during the 2017 calendar year. They are listed in order of start date.
Tate Britain: David Hockney 
Dates: 9 February 2017 – 29 May 2017
An exhibition of the works of David Hockney who will soon be 80 years old, exploring the different mediums of painting, photography, video and drawing, including landscapes which have never previously been exhibited.
Museum of London Docklands: Tunnel – The Archaeology of Crossrail
Dates: 10 February 2017 – 3 September 2017
Crossrail, soon to be called the Elizabeth Line, is London's newest railway, running from West to East London through the centre of the city. Crossrail works began in 2009 and have given archaeologists access to areas they have not previously been able to excavate. A wealth of hidden artefacts covering 8,000 years of London's human history has been discovered and will go on display at the museum.
Kensington Palace Diana – Her Fashion Story 
Dates: from 24 February 2017
To commemorate the 20th anniversary of her death, Diana: Her Fashion Story shows how the Princess used her image to inspire people and to champion the causes she cared about, through a display of some of her most iconic outfits.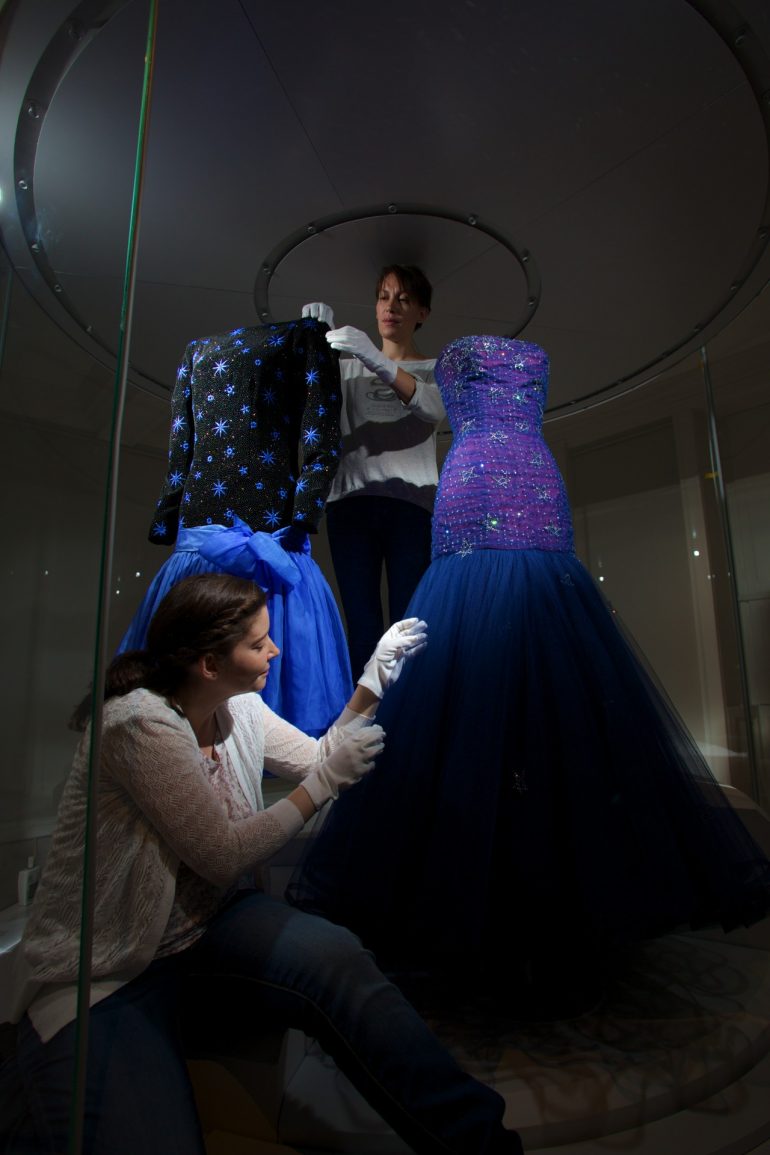 Evening dresses  worn by Diana, Princess of Wales. Photo credit: © Historic Royal Palaces.
Tate Britain: Queer British Art
Dates: 5 April 2017 – 1 October 2017
Featuring works from 1861–1967 relating to lesbian, gay, bisexual, trans and queer identities, the show marks the 50th anniversary of the decriminalisation of male homosexuality in England. The exhibition explores how artists expressed themselves in a time when established assumptions about gender and sexuality were being questioned and transformed.
Tate Modern: Alberto Giacometti 
Dates: 10 May 2017 – 10 September 2017
The exhibition will focus on which influences shaped his ideas and takes place fifty years after the gallery first showed Giacometti's work. The show will present the bronze sculptures for which he is most famous, as well as previously unseen plasters, oil paintings and drawings.
Victoria & Albert Museum: The Pink Floyd Exhibition – Their Mortal Remains
Dates: 13 May 2017 – 1 October 2017
An exhibition of more than 350 objects from the band, including rare artefacts and memorabilia that have never been seen before. There are video and sound installations, handwritten lyrics, and original posters from their albums and concerts. Highlights of the exhibition include original musical instruments and a spectacular set of reconstructions from some of Pink Floyd's legendary albums and live performances, such as The Wall, The Division Bell and The Dark Side of The Moon.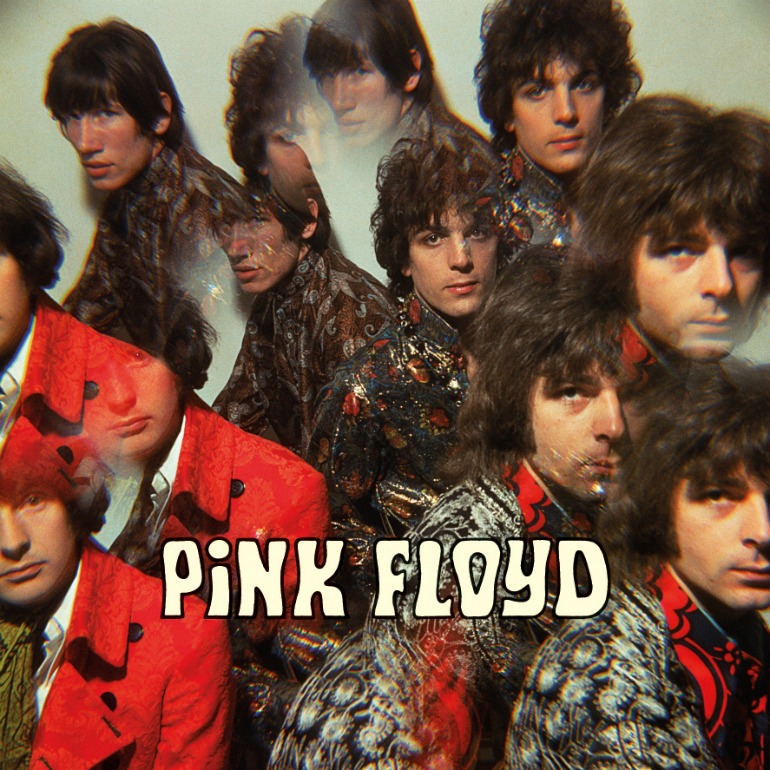 Pink Floyd: The Piper At The Gates Of Dawn. Photo Credit: © Pink Floyd Music Ltd.
British Museum: Treasures of the Scythians
Dates: 14 September 2017 – 14 January 2018
The Scythians were one of the great nomadic civilisations of antiquity. First mentioned by the Assyrians in the ninth century BC, admired by Herodotus and respected enemies of the Achaemenids, they developed a powerful alternative economy which for centuries dominated the huge region stretching from Siberia to the Black Sea. This exhibition includes royal Scythian tombs in Siberia and Kazakhstan and shows objects of exceptional beauty which would not normally survive. They include multi- coloured rugs, fur-lined garments and accessories, unique horse headgear, beautiful gold objects and much more.
National Gallery: Van Eyck & The Pre-Raphaelites
Dates: 4 October 2017 – 2 April 2017
The exhibition will bring together for the first time the 'Arnolfini Portrait' with paintings from the Tate collection and loans from other museums, to explore the ways in which Dante Gabriel Rossetti, Sir John Everett Millais and William Holman Hunt were influenced by the painting.
British Library: Harry Potter – A History of Magic
Dates: 20 October 2017 – 28 February 2018
This exhibition will celebrate the 20th anniversary of the publication of Harry Potter and the Philosopher's Stone. It will showcase a fascinating display of wizarding books, manuscripts and magical objects, and combine centuries-old British Library treasures with original material from Bloomsbury's and J.K. Rowling's own archives. The structure of the exhibition has been inspired by the subjects that Harry and his friends study at Hogwarts School of Witchcraft and Wizardry, from Potions and Herbology, to Astronomy and Care of Magical Creatures, and will explore the rich magical traditions that they draw on.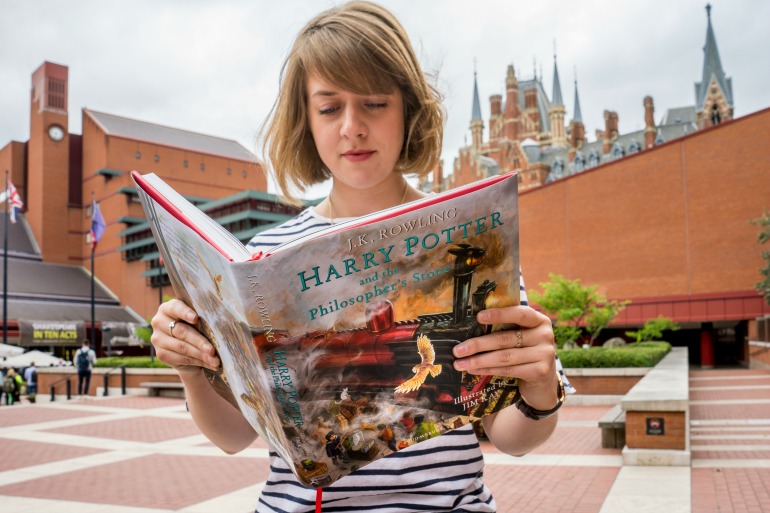 British Library: Harry Potter A History of Magic exhibition. Photo Credit: © Tony Antoniou via British Library.

National Gallery: Monochrome Painting in Black & White
Dates: 1 November 2017 – 18 February 2018
Monochrome shows a series of case studies that investigate where and when grisaille painting was used and to what effect – with early religious works, to paintings that try to show themselves as sculpture. There will be works on glass, vellum, ceramic, silk, wood, and canvas, by artists such as Rembrandt, Picasso, and Gerhard Richter.
Tate Modern: Modigliani
Dates: 22 November 2017 – 2 April 2017
Amedeo Modigliani is famous for his nudes and elongated portraits and the exhibition will place his work in dialogue with artworks by his contemporaries, including Picasso and Brancusi.