London 2014 Invictus Games: Wheelchair Rugby
London Blue Badge Tourist Guides Karen Eastland, Pamela McHutchon and I had front row tickets for wheelchair rugby aka 'the best fun you can have with your clothes' on at the London 2014 Invictus Games. This international sporting event, held at the Olympic Park where London Blue Badge Tourist Guides now regularly giving walking tours, turned out to be a star-studded event.
The warm up games were exciting enough but the big surprise was a curtain-raiser featuring Dame Kelly Holmes, Zara Philipps, Mike Tindall, Jason Robinson, Denise Lewis and Prince Harry himself, who received a yellow card and was 'sent off' for one minute.
Prince Harry's team was coached by Jonny Wilkinson, World Cup winning legend, with their opponents being coached by Sir Clive Woodward. The crowd, including Pippa and James Middleton, Mayor Boris Johnson and Kate Hoey MP cheered and whooped as the tries came thick and fast. But the undoubted highlight of the evening (and of the whole Games according to Prince Harry) was a tightly-contested final between Team USA and Team GB with the latter winning by just one point in the last minute.
It was the most brilliant fun to witness healthy competition between these soldiers, many of whom suffered life-changing injuries fighting for their country and one of whom 'died' twice on his way to hospital. The Olympic Walk continues three days a week, enlivened by our stories of attending this fabulous and inspiring event which took place in the Copper Box on the Queen Elizabeth Olympic Park. Roll on the next Invictus Games – we can't wait!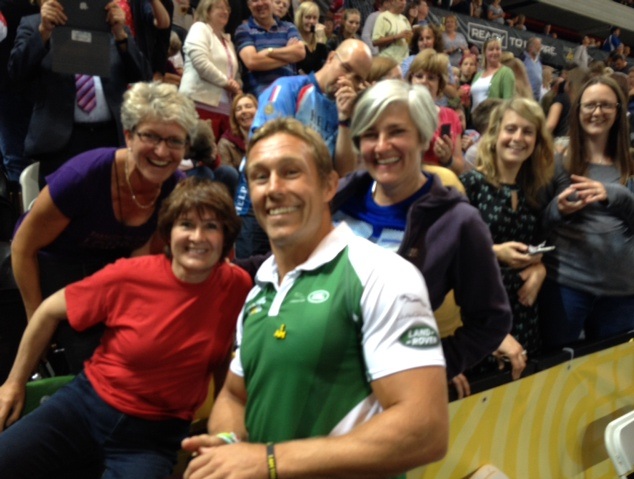 London Blue Badge Tourist Guides: Karen Eastland, Pamela McHutchson and Victoria Herriott with rugby star Jonny Wilkinson who scored the drop goal that won England the World Cup in 2003. Photo: ©Victoria Herriott.

END
Would you like to explore London and beyond with a highly qualified and enthusiastic Blue Badge Tourist Guide? Use our Guide Match service to find the perfect one for you!

Victoria Herriott
For the past three years I've been amongst an elite team of a dozen guides who conducted tours of the Olympic Park for the ODA, LOCOG and now for the London Legacy Development Corporation. My voluntary role is Head of Marketing for the Blue Badge 2012 committee and…
You may also like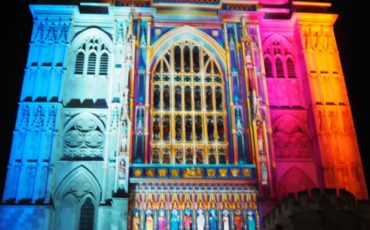 15 January 2016
Lumiere London is a new lights festival produced by Artichoke and supported by the Mayor of London. Bringing together some of the world's most exciting artists working with light, Lumiere London transforms many of London's most iconic streets and building in the West End and King's Cross area. The festival is completely free to attend and was launched on Thursday, 14th January 2016 and will run through Sunday, 17th January 2016. Below are 12 of the illuminations viewed in the West End area for Lumiere London 2016.
Read more