Blue Badge Tourist Guides need to keep up with the latest cinema releases in order to make their tours relevant and up-to-date. One of the most interesting and popular films to come out this year was Goodbye Christopher Robin, the story of the creation of our best-loved bear Winnie the Pooh.  His position though may be threatened by Paddington, created by the late Michael Bond and also the subject of a recent film Paddington 2 which is currently doing good business at the box office.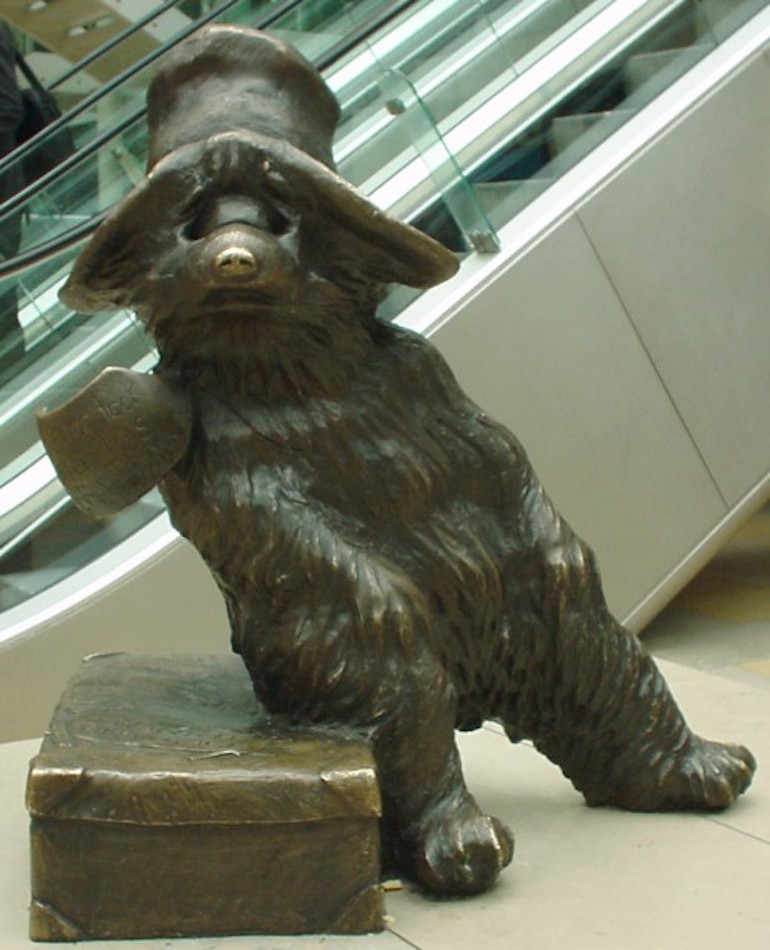 Bronze statue of Paddington Bear, by sculptor Marcus Cornish at London's Paddington Station. Photo Credit: © Lonpicman via Wikipedia Commons.
Whereas Paddington takes his name from the railway station where he was discovered and adopted by the Brown family, Winnie the Pooh created by A.A. Milne is named after a real bear who came from the town of Winnipeg in Canada and ended up at London Zoo. Winnie the real bear was brought there by a Canadian officer and kept at the zoo for safe-keeping during the First World War, becoming a permanent and much-loved figure in the zoo often seen by Milne's young son Christopher Robin on visits there.
A. A. Milne also fought in the First World War before returning to civilian life and building a successful career as a playwright in London. Christopher Robin was his only child and the film shows the two at Cotchford Farm in the Hundred Acre Wood in Sussex while his wife enjoys high society life in London and his much-loved nanny is looking after her own mother. In modern terms the two 'bond' together as Milne senior concocts a series of children's stories from his son's toys. He also writes a sentimental poem Vespers which portrays his son saying his prayers, one which the real Christopher Robin Milne said brought him more embarrassment than anything else in his life.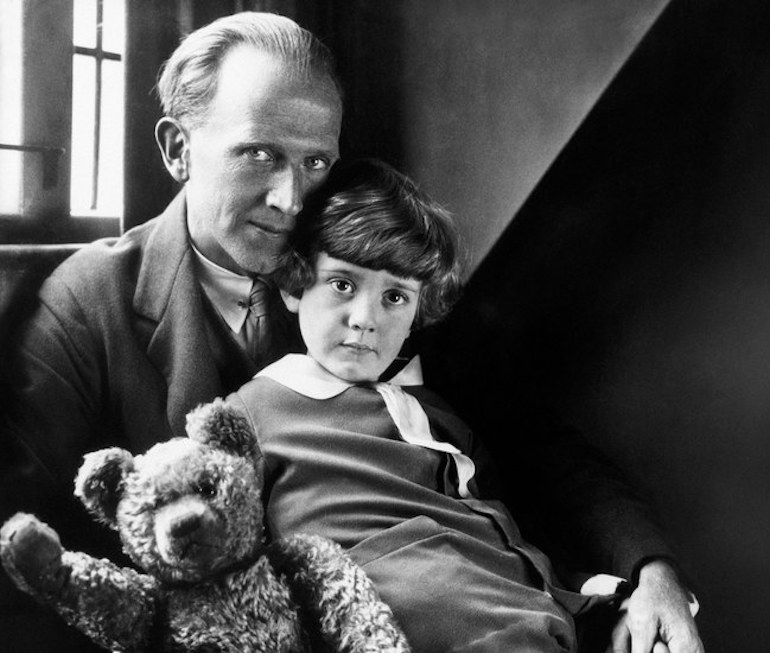 Milne with his son Christopher Robin and Pooh Bear, at Cotchford Farm, their home in Sussex. Photo Credit: © Howard Coster, 1926 via Wikipedia Commons.
The Winnie the Pooh books proved so popular that they began to take over the lives of the Milnes. Christopher Robin suffered bullying at school and, having been turned down for the officer class in the Second World War, enlisted as a private in an attempt to achieve anonymity. He later refused to take any money from the books or the Walt Disney films which came out of them once the rights had been sold by Milne's widow. He lived quietly in Devon where he ran a bookshop, never quite throwing off the burden of Winnie the Pooh. The toys which inspired the characters were donated to the New York Public Library where they are seen by 750,000 people every year.
Cotchford Farm later became the home of the Rolling Stones guitarist and founder member Brian Jones whose body was found there after his death from a drug overdose not long after he had left the group. Although it would be a very popular tourist attraction, Cotchford has never been turned into a museum and was recently bought by a private buyer for just under two million pounds.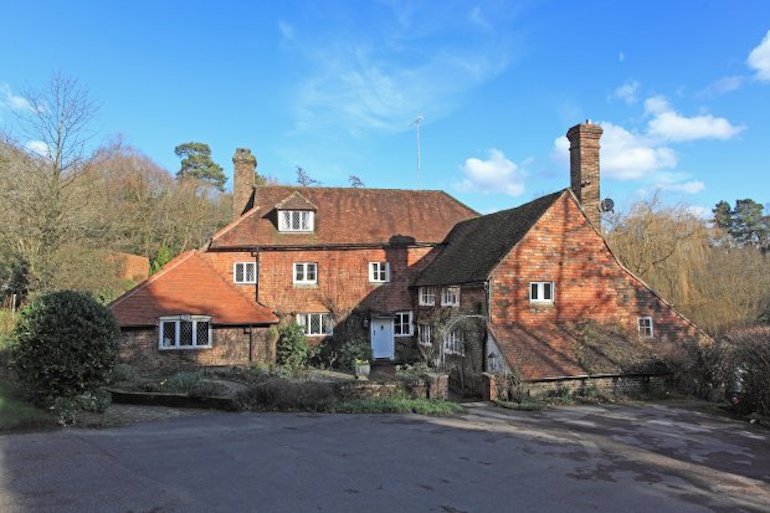 Cotchford Farm. Photo Credit: © Edwin Lerner.