Christmas festivities in Central London usually start with the putting up of Christmas lights in the major shopping areas. But nowadays, the laying out of ice rinks in popular tourist attractions makes the visitor experience much more fun. Here are five places where you can enjoy ice skating in London with amazing scenic views.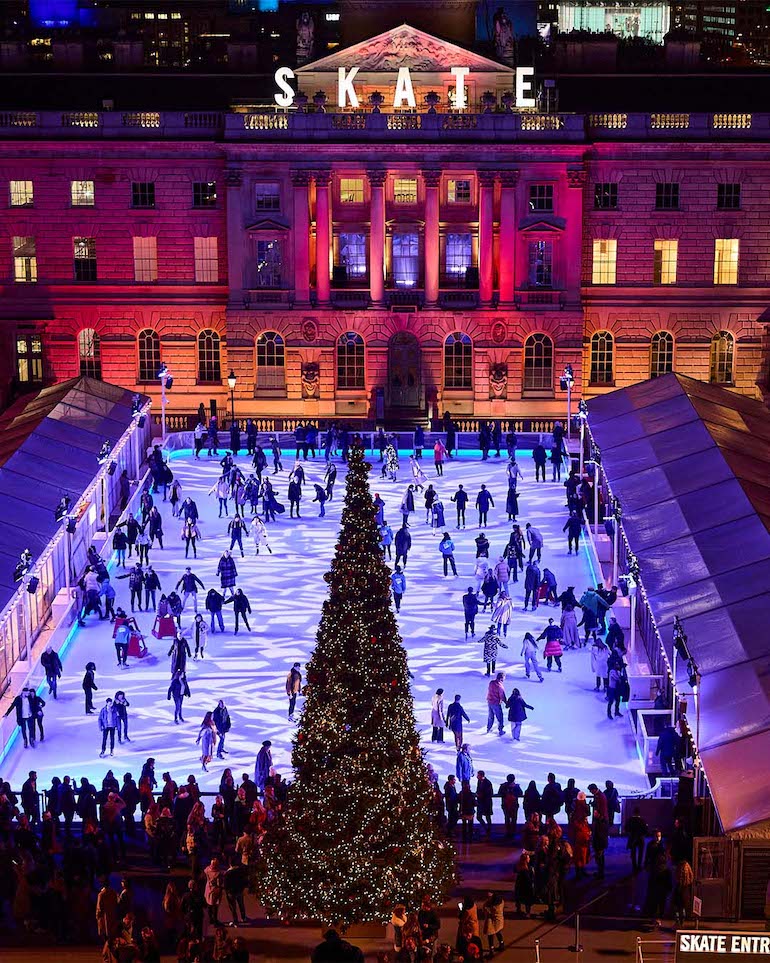 Skate at Somerset House with Moët & Chandon. Photo Credit: © Somerset House.
Address: Strand, London, WC2R 1LA
When: Thursday, 16 November 2022 to  Sunday, 15 January 2023
Price: £15.00 for Adults and £8.50 for Children (aged 12 and under)
It is easy to pass by this building on the Strand and not realise this is a hidden gem. Walk through the arch and enter into the space-a splendid quadrangle that is surrounded by elegant 18th and 19th-century buildings. It looks very much like a palace, but in fact, this was built as a public building serving several government offices. Today, buildings are used for a variety of purposes. The Courtauld Institute of Art Gallery with its extensive collection of art, including post-impressionists; the British Fashion Council that organises the biannual London Fashion Week; and throughout the buildings there are temporary art exhibitions and installations. It is also used as a film location, e.g., James Bond – GoldenEye, period dramas such as Sherlock Holmes & Downton Abbey.  The ice rink is open every day until 16th January 2019 from 10 am – 10 pm with disco music to keep you dancing even after your skating session!
Address: Molesey, East Molesey, KT8 9AU
When: Thursday, 17th November 2022 to Sunday, 8th January 2023 (excludes Christmas Day)
Price: £17.50 for Adults/Teens (13 years and over) and £13.00 for Children (aged 3 to 12 years)
King Henry Vlll enjoyed this royal residence miles away from the City of London. Set beside the River Thames, Hampton Court Palace provides stories of this Tudor King, his highs and lows – his first legitimate son and heir Edward was born here, the great banquets that were held in The Great Hall, and his adulterous fifth wife who was dragged screaming from the palace to the Tower of London to face execution. Over time successive kings and queens used Hampton Court and left their architectural legacies including the formal gardens that provide another place to explore and enjoy. The ice rink is erected in front of the Tudor buildings that are awe-inspiring but once illuminated after nightfall feel very special and magical. Hampton Court is open Monday-Sunday: 10:00-16:30. The ice rink is open Monday-Friday: 11:00-21:00; Saturday-Sunday: 10:00-21:00 until 6th January 2019. Closed 25th December.
Address: Canada Square Park, Canary Wharf, London E14 5AB
When: Saturday, 22 October  2022 to Saturday, 25 February 2023
Price: £19.95 for Adults/Teens (13 years and over) and £14.95 for Children (aged 4 to 12 years)
Skating could be the best way to relax after a hard day at the office. Canary Wharf, situated in East London, is supposed to be London's longest-running seasonal ice rink. Set in Canada Square Park, it features an impressive 40 square metre screen which will provide an ever-changing striking visual backdrop for skaters. Also, a fun feature is London's only skate path, a passage weaving through the fairy-lit trees of Canada Square Park. The ice rink is open every day until 16th February 2019 (times vary) Closed on 25th December. Canary Wharf, dubbed as 'Mini Manhattan' is considered London's second financial centre. It is surrounded by soaring towers, most notably One Canada Square, which at 770 ft, was once the tallest building in Britain known by its distinctive pyramid roof. If you want to know more about the Docklands area, the people who worked on the docks, and the importance of the River Thames, the Museum of London (Docklands) is an excellent place to visit (free entry).
Address: Battersea Power Station Circus Rd W, Nine Elms, London, SW8 5BN
When: Friday, 11 November 2022 to Sunday, 8 January 2023
Price: from £12 for Adults/Teens (13 years and over), from £8 for Children (aged 12 years and under), from £36 for families
Well, there is a new ice rink that has already been promoted as "London's coolest ice rink" (no pun intended). It is situated on the newest public space adjacent to the newly refurbished Battersea Power Station. Glide Ice Rink Battersea is not your typical rectangular rink, it has three interconnecting rinks with a thirty-foot Christmas Tree as its centrepiece -ideal for photo ops! Whether you are a good skater or a beginner, you will enjoy the atmosphere and the stunning and unmissable views of Battersea Power Station, a grade ll* listed building.
This leviathan was built in the 1930s –1950s, the architectural style is called Art Deco. It is one of the most easily recognisable landmarks in London, with its four chimneys that adorn the building. It was closed down in the 1970s. The site was subject to various redevelopment plans over the next 40 years that did not come to fruition. But it proved to be an ideal place for filming and photo opportunities. If you saw a large inflatable pink pig flying above the chimneys back in 1977– that was a photo shoot for the Pink Floyd's music album Animals.
Battersea Power Station is now part of a new housing and retail development site; since its opening on 14th October 2022, it is proving to be a popular place for shopping, restaurants, and entertainment, with many events being planned.
NOTE:  The Natural History Museum Ice Rink is closed as, after an incredible 16 years, the five-acre gardens on which the rink sits is being transformed into a hub for urban wildlife.   Also, the Tower of London Ice Rink is not open this year!