Christmas festivities in Central London usually start with the putting up of Christmas lights in the major shopping areas. But nowadays, the laying out of ice rinks in popular tourist attractions makes the visitor experience much more fun. Here are five places where you can enjoy ice skating in London with amazing scenic views.
Address: Cromwell Rd, Kensington, London, SW7 5BD
When: 22 October 2021 – 16 January 2022; Open 11.00-22.00 daily
Price: Adults from £12.65 and Children from £8.80
Before stepping onto the ice, why not visit The Natural History Museum. Opened in 1881, this majestic building referred to as the 'Cathedral of Nature' has on display skeletal remains of dinosaurs that roamed the earth millions of years ago, other animals, birds and insects, some sadly extinct. There is even a piece of moon rock that can be seen. There are lots to see and do, no wonder this museum is a family favourite. The 19th-century building has animals carved into its exterior walls so whether you are skating or watching others, it makes it a wonderful backdrop for the open-air ice rink.
Address: Strand, London, WC2R 1LA
When: 17 November 2021 – 16 January 2022
Price: Adult tickets from £11.00
It is easy to pass by this building on the Strand and not realise this is a hidden gem. Walk through the arch and enter into the space-a splendid quadrangle that is surrounded by elegant 18th and 19th-century buildings. It looks very much like a palace, but in fact, this was built as a public building serving several government offices. Today, buildings are used for a variety of purposes. The Courtauld Institute of Art Gallery -(currently closed planned re-opening in 2020) with its extensive collection of art including post-impressionists; the British Fashion Council that organises the biannual London Fashion Week; and throughout the buildings there are temporary art exhibitions and installations. It is also used as a film location, e.g James Bond – GoldenEye, period dramas such as Sherlock Holmes & Downton Abbey.  The ice rink is open every day until 16th January 2019 from 10 am – 10 pm with disco music to keep you dancing even after your skating session!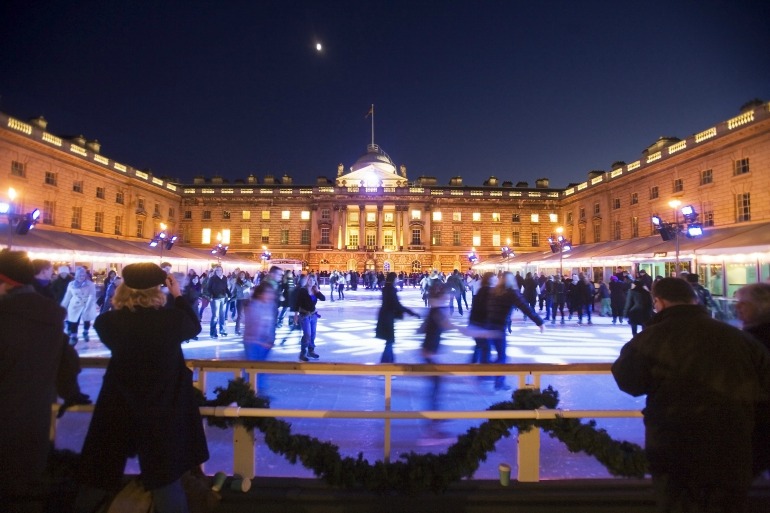 Somerset House – Ice Skating. Photo Credit: © London & Partners.
Address: Tower of London, London, EC3N 4AB
When: Closed for 2021 but will be back for 2022
Price: TBD
The setting for this ice rink would give you the shivers – for the right reasons. How great it would be to visit the Tower of London, a royal palace, fortress, and home to the Crown Jewels, and then to end the day with ice skating in the moat? The view of the 13th-century walls provides a dramatic backdrop that really impresses upon skaters how difficult it would have been for intruders to scale the walls to invade the castle. The moat was recently used in the commemoration of the Armistice, the official end of the Great War on 11th November 1918. The Torch Ceremony called Beyond the Deepening Shadow saw the lighting of 10,000 torches each night from 4th November until 11th November 2018 by members of the armed forces and volunteers with a minute's silence to remember the fallen. It was a moving tribute that brought hundreds of visitors each night to see the lit torches and to hear the sound installation of choral music and words from Mary Borden's Sonnets To A Soldier. The Tower of London is open Tuesday-Saturday: 09:00 to 16:30 and Sunday – Monday: 10:00 to 16:30. The ice rink is open every day from 11.00 to 21.00 until 6th January 2019 (closed 25 December).
Address: Molesey, East Molesey, KT8 9AU
When:15 November 2021 – 9 January 2022 (excludes Christmas Day)
Price: Teen/Adult from £16.00 to £19.00 and Child aged 10-12 from £11.50 to £14.00
King Henry Vlll enjoyed this royal residence miles away from the City of London. Set beside the River Thames, Hampton Court Palace provides stories of this Tudor King, his highs and lows – his first legitimate son and heir Edward was born here, the great banquets that were held in The Great Hall, and his adulterous fifth wife who was dragged screaming from the palace to the Tower of London to face execution. Over time successive kings and queens used Hampton Court and left their architectural legacies including the formal gardens that provide another place to explore and enjoy. The ice rink is erected in front of the Tudor buildings that are awe-inspiring but once illuminated after nightfall feel very special and magical. Hampton Court is open Monday-Sunday: 10:00-16:30. The ice rink is open Monday-Friday: 11:00-21:00; Saturday-Sunday: 10:00-21:00 until 6th January 2019. Closed 25th December.
Address: Canada Square Park, Canary Wharf, London E14 5AB
When: Saturday 23 October  2021 – Saturday 26 February 2022
Price: Adult – £17.95 (Adult/Teen 13 years and over), Child – £11.95 (Children (aged 4-12 years)
Skating could be the best way to relax after a hard day at the office. Canary Wharf, situated in East London is supposed to be London's longest-running seasonal ice rink. Set in Canada Square Park, it features an impressive 40 square metre screen which will provide an ever-changing striking visual back-drop for skaters. Also, a fun feature is London's only skate path, a passage weaving through the fairy-lit trees of Canada Square Park. The ice rink is open every day until 16th February 2019 (times vary) Closed on 25th December. Canary Wharf dubbed as 'Mini Manhattan' is considered as London's second financial centre. It is surrounded by soaring towers, most notably One Canada Square which at 770ft was once the tallest building in Britain known by its distinctive pyramid roof. If you want to know more about the Docklands area, the people who worked on the docks, and the importance of the River Thames, the Museum of London (Docklands) is an excellent place to visit (free entry).