Most London Blue Badge Tourist Guides have a backstory. Mine involved a seventeen-year career in the pharmaceutical industry working for a joint-venture French/American vaccine company. As Head of Medical Information, I set up the very first telephone Vaccine Information Service – in the days before Google! It became very successful, taking over 100,000 calls a year mainly from practice nurses answering questions on travel, flu, and childhood vaccines.
In 1998 my role changed overnight after several daily newspapers ran articles about a doctor who claimed the measles, mumps, and rubella (MMR) vaccine was linked to autism. Setting up an in-house press office, the next three years were spent liaising with TV, radio, and print journalists. Eventually, the doctor was discredited, struck off, and moved to America but the damage was done. As the 18th-century writer and satirist, Jonathan Swift wrote, 'falsehoods fly, and truth comes limping after it.'
I left the industry when my husband was headhunted by a start-up American vaccine company and I was able to take some time out. I then applied for the London Blue Badge Tourist Guide course, which had been a dream of mine for years. My boss in the company at the time left the United Kingdom shortly after me to progress his career in France. His place was taken by an infectious disease medic keen to gain vaccine industry experience. His name? Jonathan Van-Tam, now Deputy Chief Medical Officer for England.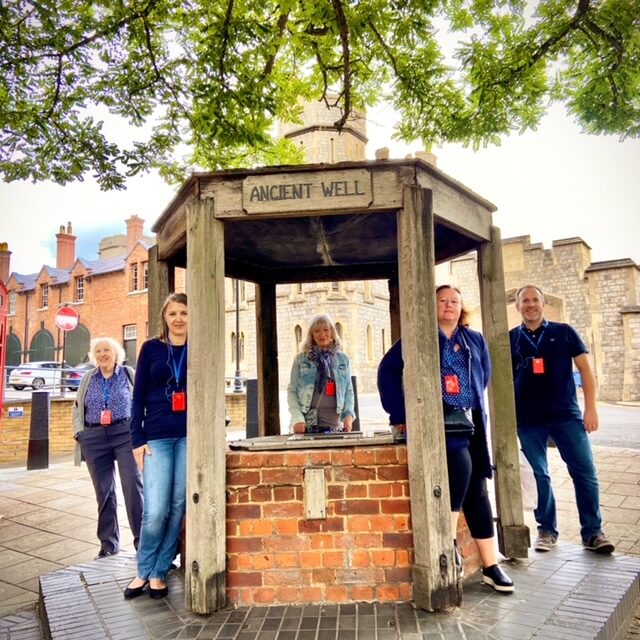 Windsor walking tour group. Photo Credit: © Amanda Bryett.
16 Facts about Diseases & Outbreaks in Windsor:
One of the tours I offer as a Blue Badge Tourist Guide is a walk of  Windsor titled Plagues, Pestilence, and Potions.   While exploring historic buildings and sites in Windsor, I provide information into the outbreaks and diseases (smallpox, typhoid, cholera, influenza, plague, etc.) that have hit the inhabitants of Windsor through the centuries.  Insight is also provided into how even royalty couldn't escape outbreaks and the quite dreadful conditions that many Windsorians lived in until the early 20th century.  Below are some of the interesting facts related to outbreaks in Windsor.
During the first wave of a plague epidemic in 1348, Windsor Castle lost 300 stonemasons. More were brought in from other towns, often press-ganged and Edward III fixed wages at pre-epidemic levels.
Elizabeth Woodville, wife and later widow of King Edward the Fourth, may have died of the plague. Her burial in St George's Chapel in 1492 took place at night, without ceremony and with only a handful of attendees.
Queen Elizabeth I ordered a new set of gallows to be erected in 1563, which stood between the Guildhall and the site of TKMax. The queen came to Windsor from plague-ridden London but forbade anyone else from following. If they dared to, they were simply hanged on the new gallows!
A pest house was built in 1575 and stood where the Victoria Barracks are today. It later became the workhouse.
Fake news hit Windsor during the plague outbreak of 1665. Tobacco was thought to be a disinfectant and Eton College boys were made to smoke it. One who refused was flogged for refusing to smoke!
Queen Anne had her own spring water brought in by donkey each day from Slough. It was known as Queen Anne's water. Queen Charlotte, the wife of George III, continued the tradition.
King George III's apothecary worked out of the house to the left of the crooked house next to the Guildhall. This later became the Woods of Windsor shop.
George III and Queen Charlotte sought refuge at Windsor Castle in 1775 during a flu outbreak in London which killed 20,000 people.
Their son Octavius is buried in the vault of St George's Chapel. He died at age four at Kew following an early attempt at smallpox protection called variolation. He was the last British royal to die of smallpox.
In 1818 the first Windsor General Dispensary for the Sick Poor of Windsor and Eton opened in Church Street opposite the castle. It was open three days a week for those who could not afford private treatment.
In 1827 the dispensary injected 567 people with smallpox vaccine during an outbreak in the town.
A cholera outbreak led to 1,000 cases and 25 deaths in 1849.
A public health report in the 1850s showed that out of every 100 children born in the town fifteen died before their first birthday, thirty-two before their fifth birthday and forty-two before their fifteenth. Diseases such as measles, polio, diphtheria, and whooping cough were common.
Prince Albert died of typhoid at Windsor Castle in 1861.
Queen Victoria's eldest grandson Prince Albert, Duke of Clarence died of Russian flu during a second wave in 1892. He is buried in the Albert Memorial chapel.
Finally, Elizabeth II left London for Windsor Castle during the 2020 COVID pandemic.