Until perhaps the last thirty years, there was some truth in the belief that north of the River Thames was smart, wealthy and desirable but south of the river was the haunt of thieves, vagabonds and only approached with caution. Even London's cabbies were reputed to be reluctant to go south of the river at night. Times have changed. Peckham and Brixton as well as Clapham are now achingly trendy and expensive and other areas like East Dulwich and Forest Hill are up and coming.
Norwood in London is not an area that is so well-known, sandwiched between the better-known districts of Crystal Palace, Dulwich and Streatham, but we do have some reasons to be cheerful. We have a church clock designed by Vuilliamy, who also designed the first clock for Big Ben. We have one of the 'Magnificent Seven' Victorian cemeteries where many famous people lie buried. A number of important manufactories were begun here: AC Cars and Tannoy. We are a modest but entrepreneurial lot.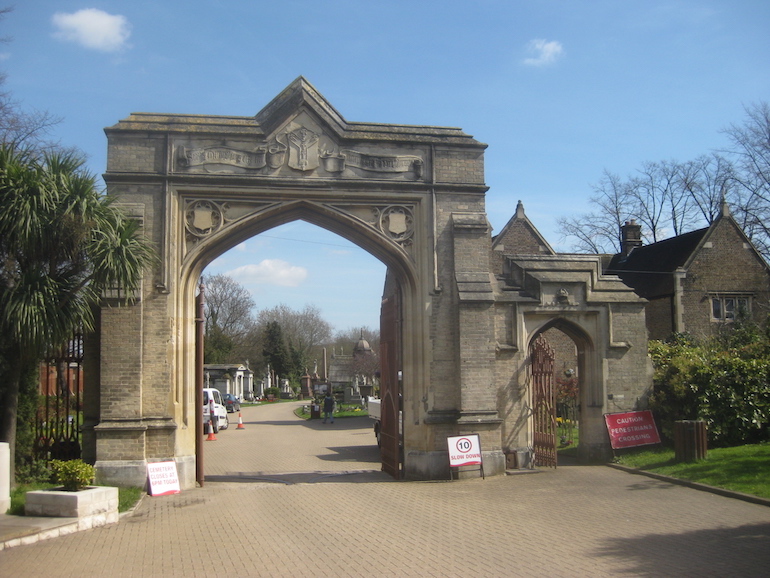 Gothic inner gates to West Norwood Cemetery, designed by Sir William Tite. Photo Credit: © Matt Brown via Wikimedia Commons.
You have a choice of Norwoods: West, South, Upper and originally a Lower Norwood, but the Upper and Lower names are not used much now. The name comes from the North Wood.  We are south of the river but north of the forests which grew on the hills rising from Surrey on the south and which dip to the valley of the Thames on the northern side. Hence Nor' Wood or the Great North Wood, its original name. The hills once covered by that forest can still be found here:  Gypsy Hill, from a well-known gypsy encampment at the base of Sydenham Hill (Samuel Pepys writes of a jaunt there, to have his fortune told). Tulse Hill, from Sir Henry Tulse, one-time Lord Mayor of London and now known to have profited from the slave trade; Knight's Hill from a local landowner, plus Sydenham and Salter's hills.
Norwood itself developed mainly along the road which rose to Crystal Palace from the plains of South London. Even before the Crystal Palace was moved here from Hyde Park, a small spa brought visitors in the summer to take the waters. Beulah Spa is now remembered only by the name and a grassy dip in the park. There was another, less successful spa called Streatham Wells, recalled by the name of a nearby school.
It was the arrival of the Crystal Palace which brought people and interest to the district, so most of our buildings are either late Victorian or Edwardian. However, St Luke's church at the head of Norwood Road is one of the early Waterloo Churches, financed by the government of the day to celebrate our victory over the French. Consecrated in 1825, Benjamin Vuilliamy, clockmaker to Queen Victoria and a close friend of  Charles Barry, designed a revolutionary clock for St Luke's in 1827, the earliest turret clock in England. It predates Big Ben by some thirty years and has recently been restored.
A number of large houses built when we were still rural attracted some notable visitors and residents. Felix Mendelssohn and Pissaro stayed here and so did Robert Fitzroy (of Shipping Forecast fame), Sir Joseph Paxton, who designed the Crystal Palace; Lord Vestey, founder of the Blue Star line and Sir Arthur Conan Doyle. More recent residents include June Brown (Dot Cotton in East Enders) Stormzy, comedian Mark Steel and Lady Flouella Benjamin.
Norwood Cemetery was designed by the architect William Tite in 1836.  His fellow architect William Burgess is buried here. Fabulous tombs include those of Sir Hiram Maxim, who invented the machine gun; Sir Henry Bessemer, inventor of steel processing; James Greathead, whose Shield helped dig out the tunnels for London's Tube network and which inspired the Channel Tunnel boring machines; Dr William Marsden of hospital fame; CW Alcock, founder of Test cricket and the Football Association; sugar magnate Sir Henry Tate; P J  Baron von Reuter of the News association and cookery writer Mrs Beeton. There are sixty-nine Grade I and Grade II monuments and eleven listed buildings, plus a Greek Orthodox necropolis which is open to the public and has Pipistrelle bats!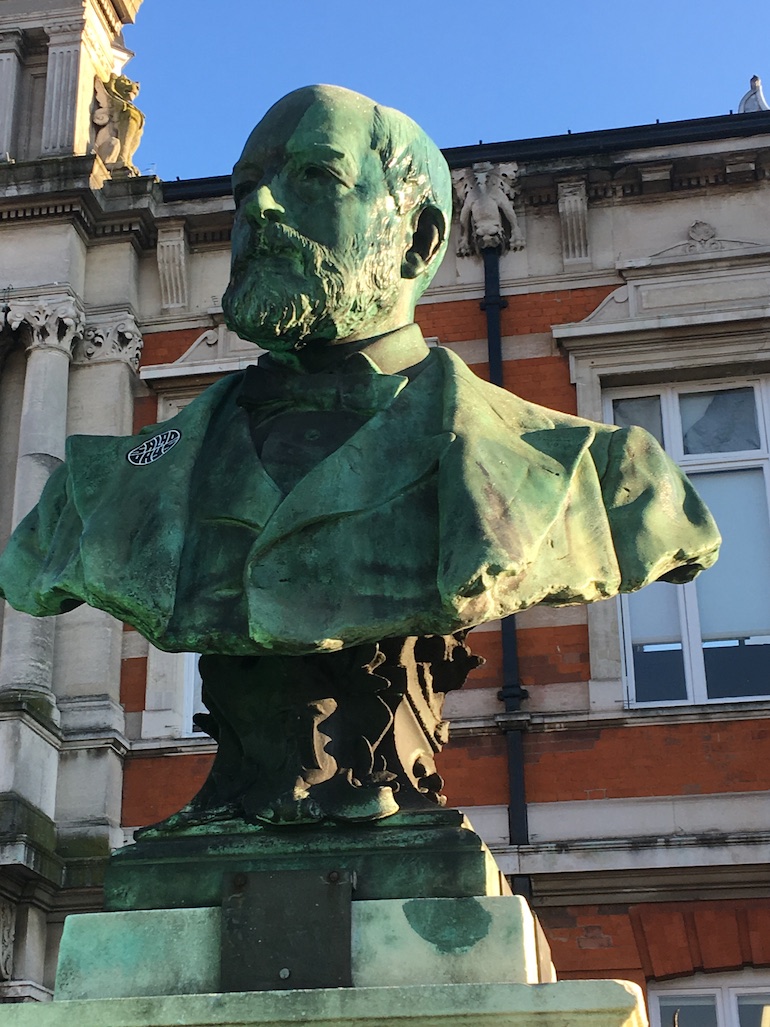 Sugar magnate Sir Henry Tate. Photo Credit: © Edwin Lerner.
Early in the twentieth century, two brothers designed a three-wheeled delivery vehicle in their premises off Norwood Road which they named the Auto Carrier Sociable. It quickly became so popular that the Weller brothers replaced the cargo box container with an extra seat and AC cars was born. They went on to produce some of the best known racing cars of the twentieth century including AC Cobra, AC Bristol and AC Shelby. They also made a blue NHS three-wheeled invalid carriage which was in production until 1976.
London's Blue Badge Tourist Guides are familiar with sound reproduction and will have heard of the Tannoy. The company was founded by Guy Fountain, who began experimenting with radio in a small factory just off of Norwood Road in 1926. He perfected an early form of battery which used two metals, tantalum and a lead alloy. The two words were put together to form the name Tannoy. During the Second World War, his equipment became so ubiquitous that 'over the Tannoy' became synonymous with sound systems. At Abbey Road Studios in Saint John's Wood Pink Floyd's Dark Side of the Moon was made using a Tannoy, while Butlins and Pontins holiday camps resounded to 'Good morning, campers' over the Tannoy.
All of these companies moved to larger premises soon after their foundation and Norwood settled into becoming a normal South London suburb. It is a nice place to live, comfortable and airy here upon our hills. We hide our light under the bushels of our parks and gardens: Brockwell Park with its restored 1930s open-air Lido; Dulwich Park, where Queen Mary walked and admired the rhododendrons; Belair Park which has a very nice restaurant in its 1775 Palladian country house and Norwood Park.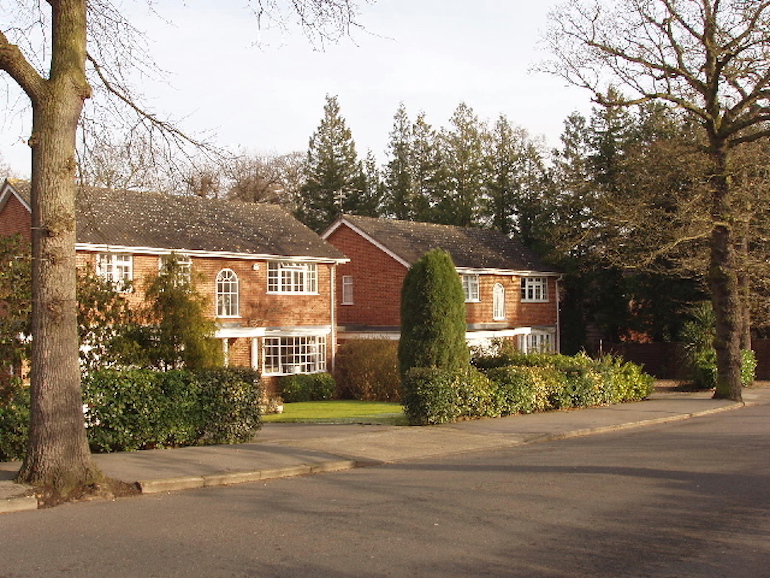 Late 20th-century houses in Northwood. Photo Credit: © David Hawgood via Wikimedia Commons.