The Christmas lights in Central London are coming down and red lanterns are beginning to appear around Soho and in particular Chinatown.  We are going to celebrate the Chinese New Year which is also known as the Spring Festival. This year it falls on Tuesday, 1st  February 2022, the first day of spring in the lunisolar calendar. Most of the Chinese traditional festivals are celebrated according to the lunisolar calendar based on the observational positions of both the moon and the sun. So, the Chinese New Year's Day changes every year, but it would always fall between 21st January and 20th February of the solar calendar.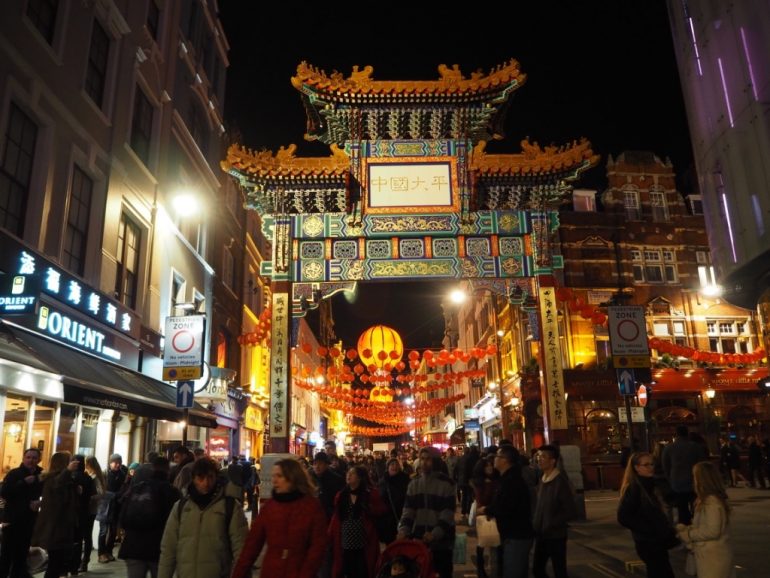 London Chinatown at night. Photo Credit: © Ursula Petula Barzey.
Year Of The Tiger 
This Chinese New Year will be the Year of the Tiger, one of the twelve animals that make up the Chinese zodiac. It is the third zodiac sign of a twelve-year repeating cycle. You might be quite happy to share your Chinese zodiac sign with a Chinese person unaware that most Chinese people will know your age from that little bit information! If you are under the sign of the Tiger, you were born in 2022, 2010, 1998, 1986, 1974, 1962, 1950, 1938, etc. Mistakes can be made in guessing your age and that could add or subtract 12 years!
According to Chinese astrology, a tiger is a symbol of strength, exorcising evils, and braveness.  Furthermore, those who are born in the year of the Tiger are brave, competitive, unpredictable, and confident. Here is a small list of famous people born under this sign:
Queen Elizabeth II
Marilyn Monroe
Miles David
David Attenborough
Sir Richard Branson
Usain Bolt
Lady Gaga
It is believed that people are particularly vulnerable in the year of their zodiac, and are often advised to wear red wristbands, red belts, red underwear, and even red socks for their entire zodiac year (another giveaway to your age), as red is believed to be the lucky colour that could ward off harmful spirits. Other lucky colours associated with this sign is green and purple.
For the entire festival period, Chinese homes and businesses are adorned with red lanterns, and messages in couplets offering auspicious wishes. Red envelopes with money are prepared to hand out to the younger and older generations. Traditionally you should be the one who hands out the envelopes rather than receives if you belong to the generation in between and has a job.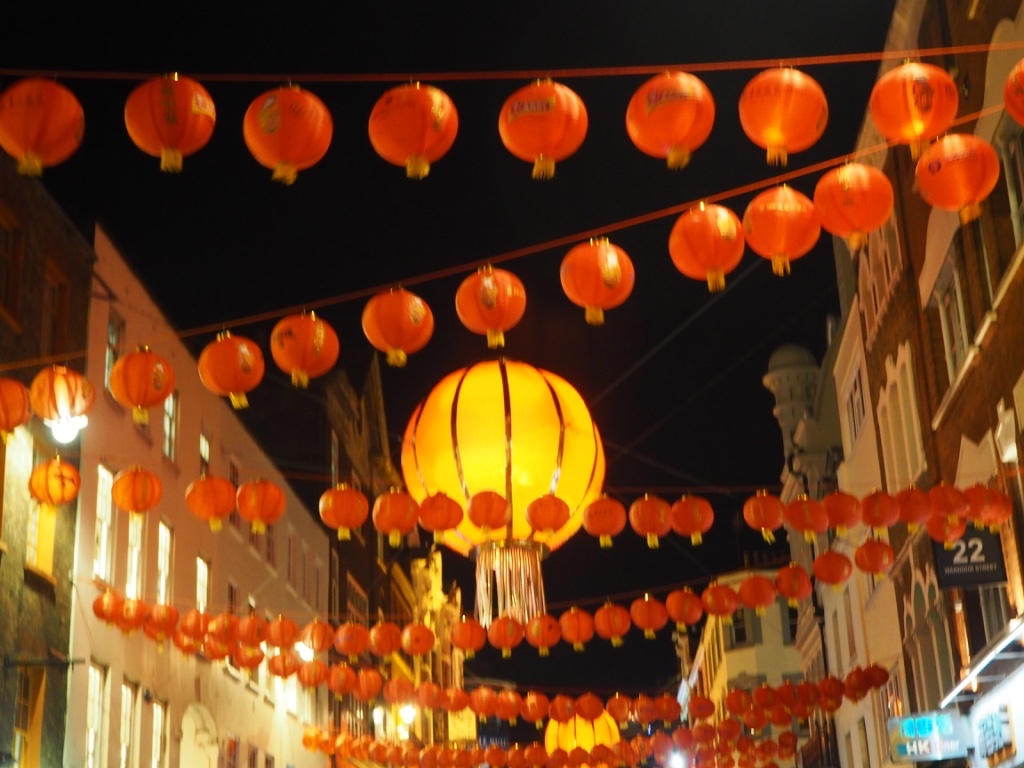 London Chinatown – a close up of the Red Lanterns. Photo Credit: © Ursula Petula Barzey.
Chinese New Year, Spring Festival aka the Lunar New Year
The Spring Festival traditionally lasts for 15 days, marking the first cycle of the moon from its darkest on the New Year's Day to its brightest and fullest 15 days later. It has been traditionally the slackest period in Chinese farmers' lives before they busy themselves again with the spring fields. During this period, families are united, tables are laden with the best food, and no cost spared on fireworks, as the flashes and the cracks just like the red colours are believed to be the essentials in scaring away the old devils and at the same time to welcome the new auspicious spirit.
The two most popular greetings during the celebrations are:
Happy New Year — Xin Nian Kuai Le (Mandarin) Sen Nin Fey Lo (Cantonese)
Be prosperous —Gong Xi Fa Cai (Mandarin) Kung Hei Fat Choy!
Chinatown in London
Chinatown is close to Soho and Leicester Square and is a distinct area in the West End. The Chinese community has been in London for more than 200 years. The original Chinese communities were sailors who came over with the British merchant ships laden with rice, tea, silk, and porcelain. Many of them were the southerners from the port areas of China such as Canton and Hong Kong, where Cantonese was spoken. They also came from the mainland where the official language is Mandarin.
Thus, Cantonese and Mandarin are the two main Chinese languages that you will encounter. They settled in the United Kingdom and areas most densely populated with Chinese communities became known as Chinatowns. The London Chinese community originally settled near the Docklands in the East End of London; many moved to the current location as a result of their homes being destroyed either by bombs during the Second World War or by slum clearance and post-war redevelopment. Today about 13,000 Chinese people live in London.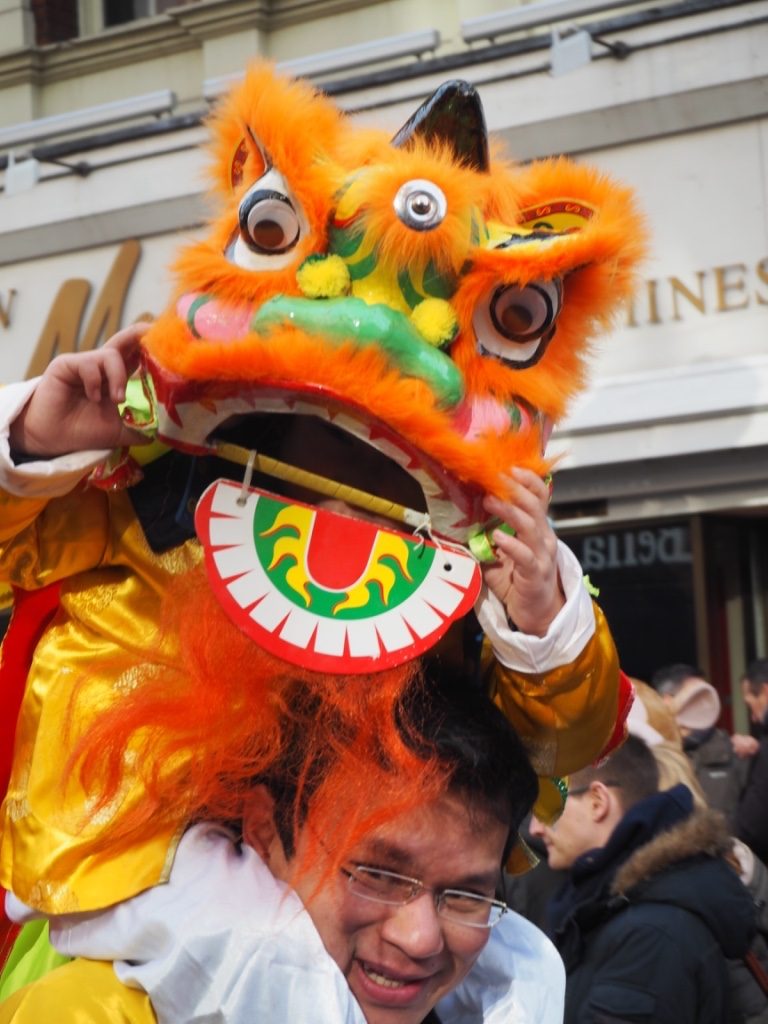 London Chinatown – Little girl on her dad's shoulder at Chinese New Year Parade. Photo Credit: © Ursula Petula Barzey.
Chinese New Year Parade in London
NOTE:  Due to the COVID-19 pandemic, the parade is cancelled for 2022.  
Celebrating the multicultural and diverse nature of London, the Chinese New Year celebration is organised by The London Chinatown Chinese Association (LCCA) and counts as one of the biggest events outside Asia attracting approximately 700,000 people.
If you plan to go what should you expect? Well, it will be colourful (lots of red!), noisy and a fun day out for all the family. The celebration parade packed with activities such as the Dragon and Lion Dances, acrobats and music will be held at Trafalgar Square, Chinatown and the West End on the day after the official Chinese New Year.
The actual parade starts at 10 am from around Charing Cross Road and Shaftesbury Avenue winding their way to Trafalgar Square for midday where there will be shows performed by artists from China.
You will find many stalls offering Chinese handicrafts and street food. Many Chinese restaurants will offer their festive menus, with whole chicken and fish among the popular dishes, because they represent prosperity, fortune and luck. As it will be a very busy period, it is advisable to reserve a table if you set your mind on a particular restaurant.
Xin Nian Hao and Gong Xi Fa Cai ( i.e. Happy New Year and Be Prosperous )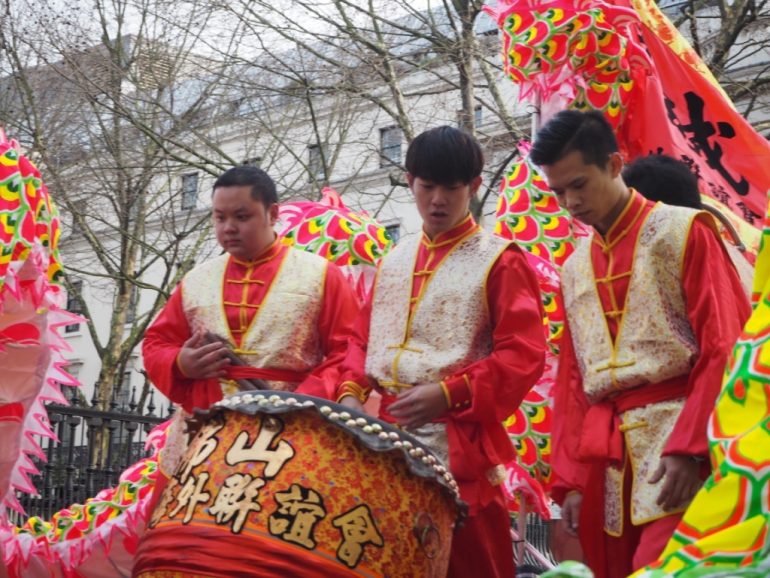 London Chinatown – Drummers at Chinese New Year Parade. Photo Credit: © Ursula Petula Barzey.
London Chinatown – Chinese New Year Parade – Dragon Dancers. Photo Credit: © Ursula Petula Barzey.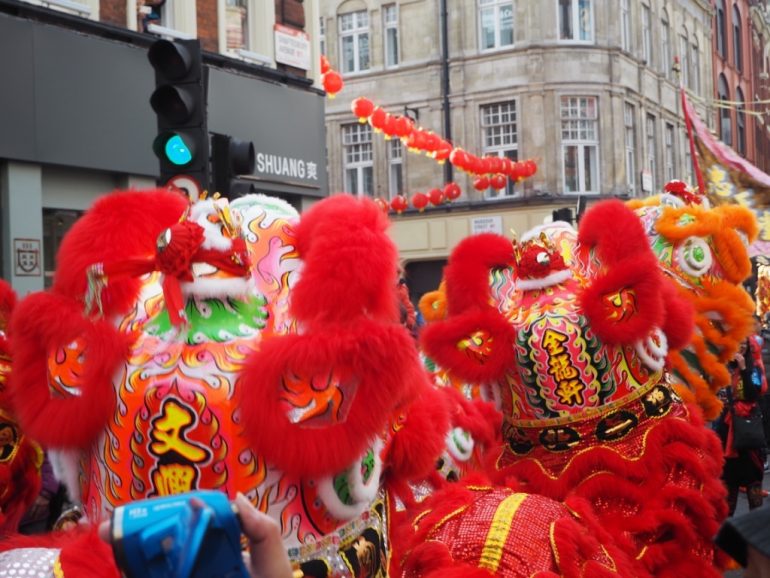 London Chinatown – Chinese New Year Parade – Dragon Dancers. Photo Credit: © Ursula Petula Barzey.