October is Black History Month in Britain. It is a great opportunity for everyone to learn more about people, places and objects that help tell the story of the Black presence in Britain – those whose names are not well known, and events that included people from Africa and the Caribbean who can help to inform the narratives of British history.
I have chosen to write about two circus performers from the 19th century who were celebrities of their time. They were part of a community that relished diversity as potential draws for curious audiences. Today, they are not so well known, but they are definitely part of circus history. Given the times we are in, let's have some fun at the circus.
Pablo Fanque, the first Black circus proprietor in Britain
Born William Darby in Norwich, East Anglia, in 1810. He was one of at least five children. There isn't much in the way of accurate information about his young life, but he was orphaned and went to join the circus at the age of 11. As an apprentice, he was trained in various skills – tumbling, rope walking and equestrian stunts. His debut was in 1821 as "Young Darby" in a sawdust ring in Norwich. Young Darby would eventually change his name to Pablo Fanque – a more exotic name that fits in with the tradition of creating extraordinary, larger-than-life personalities for the circus ring. In 1834, he is mentioned with his new name at The Lawn, Croydon, at a Grand Scottish Fete performing on a tightrope.
After 20 years as a performer, he eventually became a circus proprietor – the first black circus proprietor in Britain. He took his circus around the country, including Scotland and Ireland. In 1847 he joined the famous circus Astley's Amphitheatre, which had an arena just off Westminster Bridge Road. His equestrian skills didn't go unnoticed: "as an artist of colour and his act the hit of the evening, never seen surpassed or even equalled".
Some of the greatest circus names appeared with Pablo Fanque, in both tented and wooden venues that were considered the best. However, his star began to fade. By the 1860s, he experienced financial difficulties that led to bankruptcy and the sale of his equipment and circus.
His death in poverty at the Britannia Inn, Stockport, in May 1871 was greeted with widespread sorrow.
In 1905, the chaplain of the Showmen's Guild, in commenting on Fanque's success wrote, "In the great brotherhood of the equestrian world there is no colour-line…. the camaraderie of the Ring has but one test, ability."
Beatles fans may be familiar with Fanque's name. He is mentioned in the song "Being for the Benefit of Mr Kite!" The relevant line: "The Hendersons will all be there/Late of Pablo Fanque's Fair/What a scene!"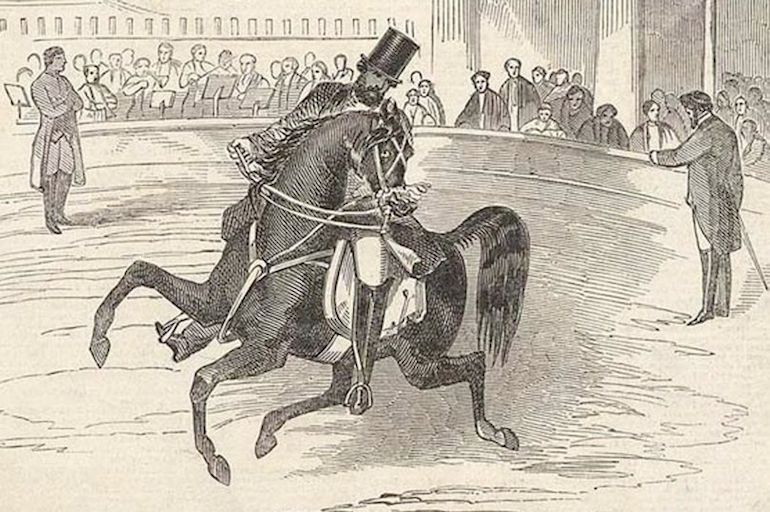 Pablo Fanque, the first Black circus proprietor in Britain at Astley's Amphitheatre in 1847. Photo Credit: © Public Domain via Wikimedia Commons.
Aerialist Miss La La, the Black Venus
In the Victorian age, the circus was a place where women could perform without the normal restrictions on their sex. They could wear clothing that allowed them to move with ease, such as a leotard, named after the French acrobat Jules Leotard. It was ideal for women aerialists.
Miss La La was one of the most sought after aerialists of the day. As with Pablo Fanque, Miss La La's ethnicity was not seen in a negative light. The circus had people of different nationalities and abilities, so her skills as a strong-jawed female with biceps measuring 35.5cm would have excited the crowd, particularly the male audience members! It is therefore not surprising that Edgar Degas would return several times during her residency at the Cirque de Fernando Montmartre Paris in 1880 to make sketches of her – referring to her as his "beautiful negress". His painting of her is displayed in the National Gallery, London.
Miss La La was born Anna Albertine Olga Brown in Stetten, Prussia, (modern-day Poland) in 1858. She was of mixed heritage. She entered the world of the circus at age 9. It is believed that her parents may have been circus performers. She became very skilled on the high wire, the trapeze and the flying cord and was one of many strong women and iron jaw performers prominent in the 1870s. Her signature trick was to hang upside down on the trapeze with a cannon weighing 150 pounds hanging from her teeth that was then fired!!
She visited England on several occasions. Olga performed at the Westminster Aquarium from February to March 1879. She again visited in 1883 as part of a duo called "The Black and White Butterflies", performing high flying and acrobatics.
Olga married a fellow circus performer in 1888 and eventually settled down in Brussels. Not much is known about her life after 1919 when she applied for a United States passport.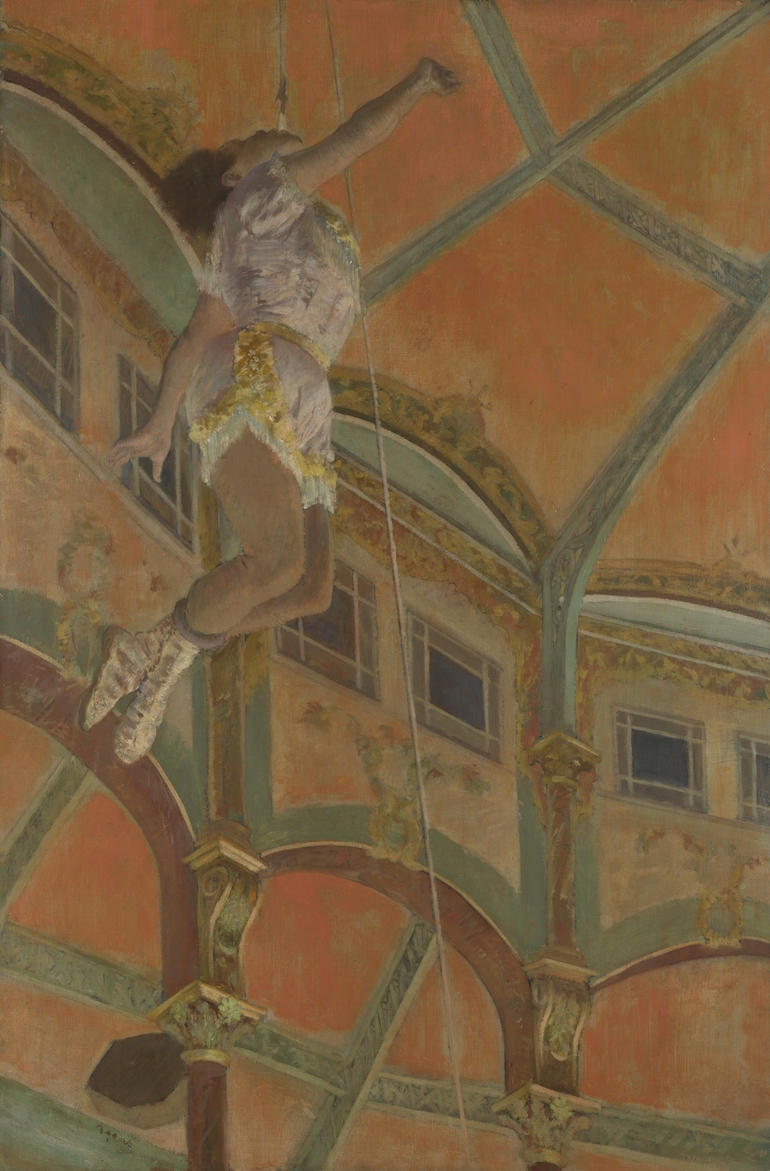 Painting of Black aerialist Miss La La Cirque Fernando in Paris circa 1879. Photo Credit: © Public Domain via Wikimedia Commons.
Ladies and gentlemen! A round of applause for the amazing equestrian maestro Pablo Fanque and the Black Venus Miss La La!