When fellow Blue Badge Tourist Guide Brian Harlock told me he was signing up to sail around the world I thought, hmm, nice. I imagined a luxury yacht, lazing around in the sunshine on calm waters, comfortable cabins and hot water (and of course a decent stock of chilled wine!). A few days before he set off on his adventure I visited him on board his boat Mission Performance and realised this trip was going to be anything but luxurious and felt an impending sense of fear and trepidation.
On Saturday 30 July, 11 months, 9 countries and 41,135 nautical miles later, Missi (as Brian's boat came to be known), together with the other eleven 70 foot clipper racing yachts, sailed up the Thames under Tower Bridge and then entered into St Katherine's Dock to a true hero's welcome just under a year after having departed on one of the most epic adventures ever. There is a very small elite group of men and women who can claim that they have sailed around the world and our very own Brian Harlock now joins that exclusive club.  Fewer people have circumnavigated the earth under sail than have climbed Mount Everest.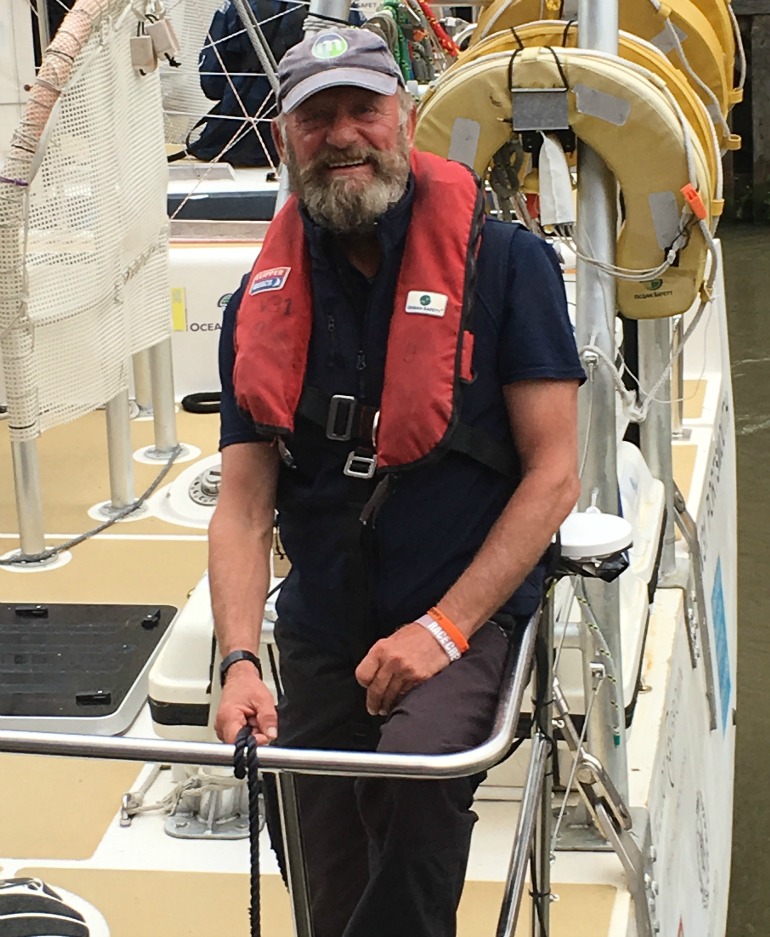 Blue Badge Tourist Guide Brian Harlock on return from round the world sailing trip. Photo Credit: ©Liz Rubenstein.
It was an emotional day, and one of great relief and joy for those of us waiting for him.  A couple of days later Brian and I had a chance to sit down and have our first proper catch up in a while and I asked him a few questions for those of you who have been following his incredible journey.
Was it what you expected?
"No, it was certainly a lot tougher than I expected both physically and mentally. Long hours either wet and cold or extremely hot, and being on a boat with 20 people for weeks on end was like being in the Big Brother house with no exit door! Just sea, more sea and more bloody sea!"
Would you recommend the experience?
"Only if you are completely mad! I am surprised that I managed to complete the race of over 40,000 miles and still be relatively sane."
What were your scariest moments?
"Two scary moments. One was when I was helming and just managed to drag the boat around from hitting a Vietnamese trawler that changed direction right in front of us. The second was a night in the North Pacific when the wind suddenly blew up. The waves were about 80 feet high and again I was helming and the wind instruments packed up as they couldn't register the power and I just couldn't hold the wheel without using all of my strength. It was about 80 miles an hour, easily hurricane force. We had been through stronger winds (up to 120 knots), but on this occasion I was helming."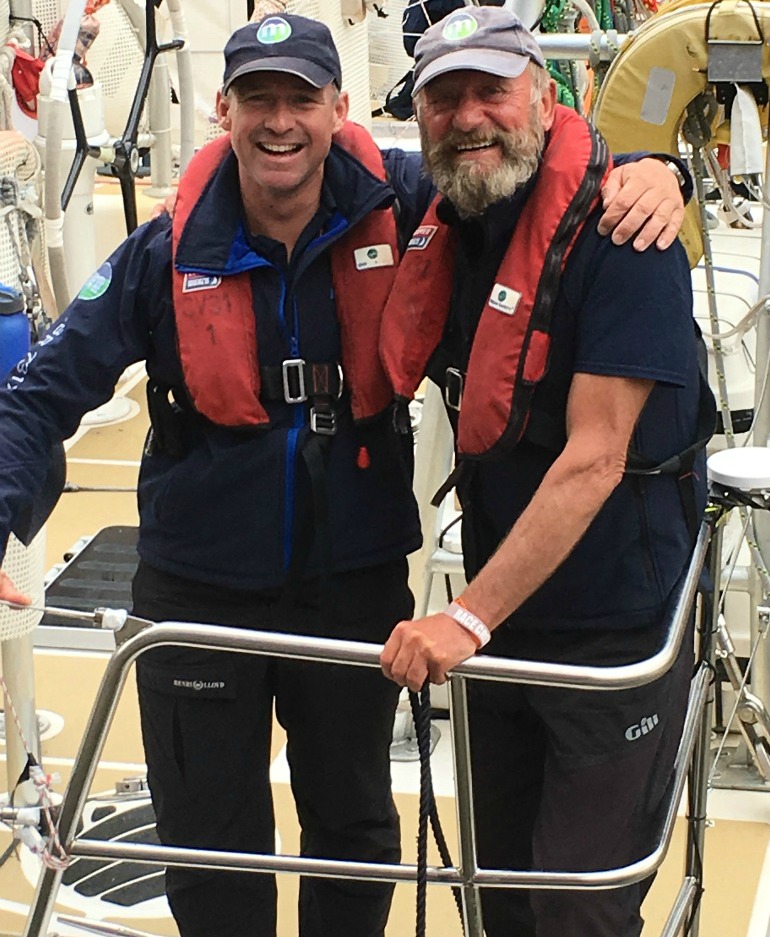 Skipper Greg Miller with Blue Badge Tourist Guide Brian Harlock on return from round the world sailing trip. Photo Credit: ©Liz Rubenstein.
What was your best moment?
"Crossing the Southern Ocean just above the ice line. Beautiful blue skies, enormous waves but absolutely thrilling. Another time, when crossing the Atlantic, again I was on the helm when someone shouted out 'don't look behind you' as a massive wave of over 90 feet came along. Suddenly, we were on top of it and I looked down from the helm and the bow was way down below me and we started to surf the wave. I reached my record speed of 29 knots shouting 'sheeet' as I had to hold the boat on a straight course or we might have breached (gone over onto our side). All the time I was laughing hysterically and singing 'Always look on the bright side of life'! Thrilling."
Have you learnt anything from this experience?
"One thing I have learnt from the whole thing is that I am never going to be satisfied with just existing in my pre-race comfortable lifestyle. I don't want to go to my grave thinking I wish I'd done that. I'm going to try and do things whilst I still have the strength and ability to do them. I jokingly was asked what I was going to do next and replied I would cross a desert on a camel. Now I'm home, I'm doing some research and seriously think I will. Anywhere away from the sea!"
For those of us who know Brian Harlock well, we have always known he is a very special person. Now I think it is safe to say he is an extraordinary human being and has no idea how incredible and inspirational he is. It is an honour and privilege to have him as one of my best mates and I remain in awe!