London New Year's Eve Fireworks
Thames Riverside, London, SE1
Tickets are £20 per person

Spending New Year's Eve in London? Be a part of one of the biggest party nights of the year as Londoners bid farewell to the last 12 months and welcome in a brand new year. There are numerous events and parties going on across London, but if you want to make it an unforgettable night, make sure you see the stunning fireworks display that bursts across the River Thames from the London Eye. More than 12,000 fireworks are shot into the night sky, and on the stroke of midnight, the famous bongs of Big Ben can be heard across the City. You'll need to buy a ticket to see this spectacular event in person.
London's New Year's Eve Fireworks is a ticketed event with 100,000 in attendance. The first batch of 50,000 tickets typically goes on sale in October via the AXS Tickets website! You can buy up to four tickets. For bigger families and groups, another adult in the family/group can buy extra tickets. You will need to travel to the event as a group. The name of the person who booked is printed on all their tickets. They may be asked to show a photo ID to enter the event.
The final batch of 50,000 tickets to see London's spectacular New Year's Eve fireworks celebrations on the banks of the River Thames will go on sale in early December.   If you miss out on tickets, you can watch via BBC IPlayer or via their YouTube channel!
Classic London Tour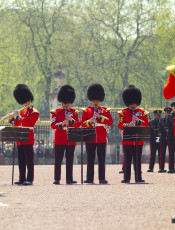 Take in the top London highlights and take home some great memories
A Classic London Tour is unmissable because…
If you're new to London or just…
VIEW TOUR NOW