Like all of us, I've found lockdown hard. As usual at the start of the year, I was preparing for the new season with info-gathering and reorientation walks, but this all came to a shuddering end in mid-March. I live in suburbia, so that's not really much use to me as a London guide.
But then it struck me: Suburbia is a rich vein of wonderful 20th-century history as London expanded with residential, commercial and infrastructure development I could investigate. Then I had another brain wave in that I live in Northolt in northwest London, and like much of this part of London, it was once a village. Places like Northolt, Ruislip and Pinner were all originally small farming villages – some evidence of those settlements must still exist. So I set out to investigate but found a whole lot more.
When you mention Northolt to a London Blue Badge Tourist Guide, they are likely to first think of RAF Northolt which you pass on the A40 on the way to Oxford or Stratford. I could talk about that, but as it's technically in Ruislip, I'll save it for another time. (It's called RAF Northolt because when it was created in 1915, the Royal Flying Corps usually named airfields after the nearest railway station, and in this case that was Northolt Junction.) Another landmark on the A40 on the way out of London is the famous 'Northolt Alps.' These are four man-made conical peaks constructed with spoil from the redeveloped Wembley Stadium. Not only do they block traffic noise, they also offer great views right into central London. And they are part of what is known as the Northala Fields leisure park development.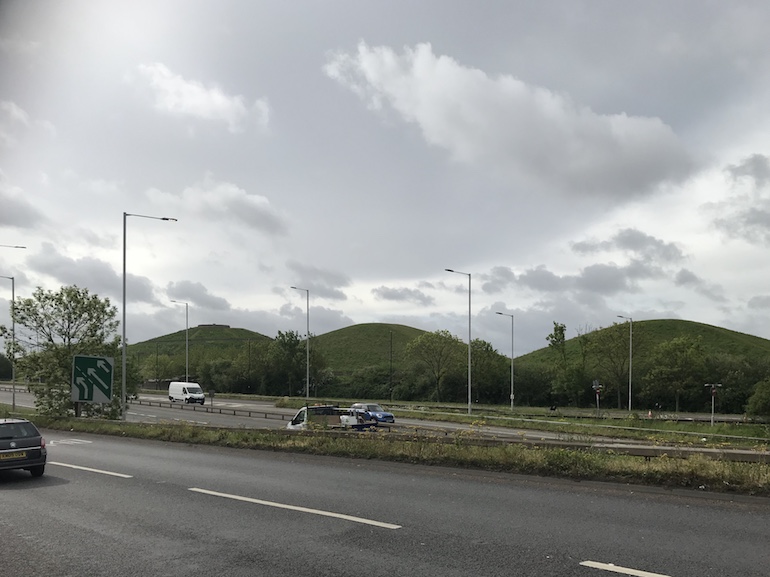 3 of the 4 'Northolt Alps' the local nickname for the man-made conical hills constructed alongside the A40. Photo Credit: © Steven Szymanski.
Northala – that's an odd name, perhaps made up by some 21st-century marketing guru, but it also sounds a little Anglo-Saxon? Online research revealed my second guess was correct, and that was the name of the settlement mentioned in the Domesday Book (it became Northolt in the 16th century) with 32 inhabitants and a church. I've lived in Northolt for nearly 20 years, and I wasn't aware of an old church. I knew of the small green with a 1937 George VI Coronation Clock, but a church? So, my walk took me up a small lane to Belvue Park and an absolute gem.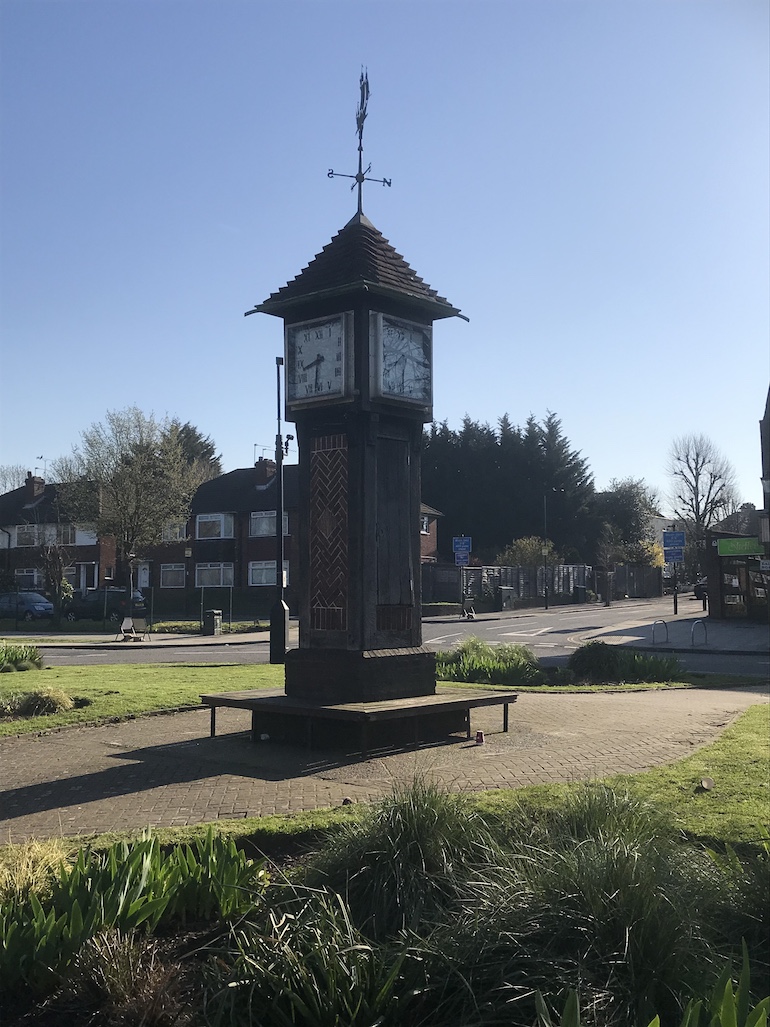 1937 George VI Coronation Clock in Northolt,London. Photo Credit: © Steven Szymanski.
St Mary the Virgin was built in the 13th century (parts still survive from then) and 'restored' over the years. The two brick buttresses were added in 1718 because it was thought the church might fall down the hill. Sadly, the church is currently closed, and I could not see the fine but tiny interior (it is only 14m by 7.3m), but I did learn that the church has a fascinating history. For complicated reasons, from 1293 until 1873 its rector was the Bishop of London, who then appointed a live-in vicar. The church then passed into the hands of Brasenose College, Oxford, which still holds the right of advowson (right to appoint the rector). Presumably, it was they who appointed Pamela Walker – the first female Anglican rector in the country.
In the 14th-century, a manor house was built behind the church. Nothing remains of it now. though the outline is marked by wooden sleepers. However, there is a Westminster Abbey connection, as Richard II bought the Manor toward the end of his troubled reign and gave it to the Abbey to pay for his and his wife's tomb. When he abdicated, the Abbey had the manor demolished and sold the land.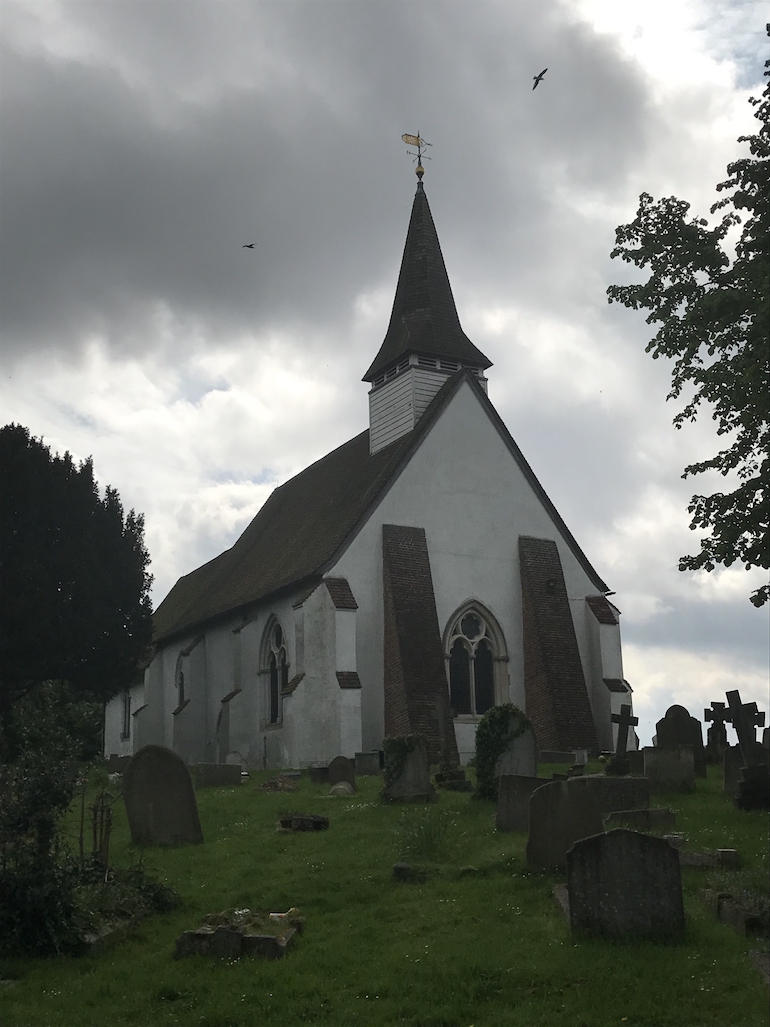 St Mary the Virgin Church, Northolt. Photo Credit: © Steven Szymanski.
Northolt had more surprises, too many for this article, but one worth mentioning I discovered as I headed home through a large mass of social housing known as the Racecourse Estate. I always assumed it was because the builders of this post-WW2 estate liked horse racing and named all the roads after famous racecourses, but it turned out to be more interesting than that. There really was a racecourse here in the 1930s, and a rather special one too.
Northolt Park was the headquarters of the Pony Turf Club (PTC) and the centre for Pony racing in this country. Pony racing had something of a dubious reputation, and to legitimise it the PTC was founded in 1923 and a dedicated pony racecourse – Northolt Park, constructed in 1929. Lower admission prices and more meetings plus its proximity to London and access by train (it had its own station) made it an extremely popular location and both Max Miller and George Formby filmed there.
Sadly, WW2 put an end to it, and the site was taken over by the armed forces, even housing Italian Prisoners of War. Attempts were made to revive the site after the war, but the need for housing had higher priority and the facilities were removed. although the famous cantilever stand was relocated to Brands Hatch. All that remains now are the rather forlorn entry gates and the street names as an indirect reminder of past glories.
I have learnt a lot more about my local bit of suburbia, proving that even Greater London has the capacity to surprise.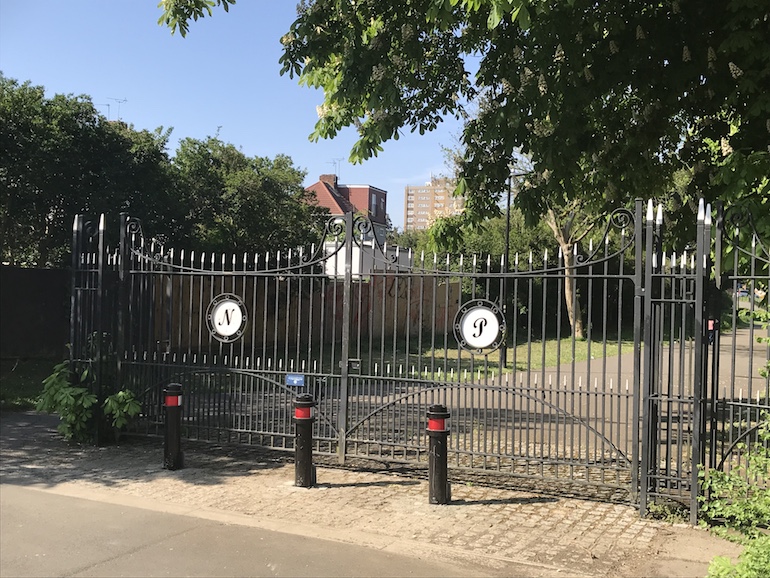 Original gates from the Northolt Park Pony racecourse.  Photo Credit: © Steven Szymanski.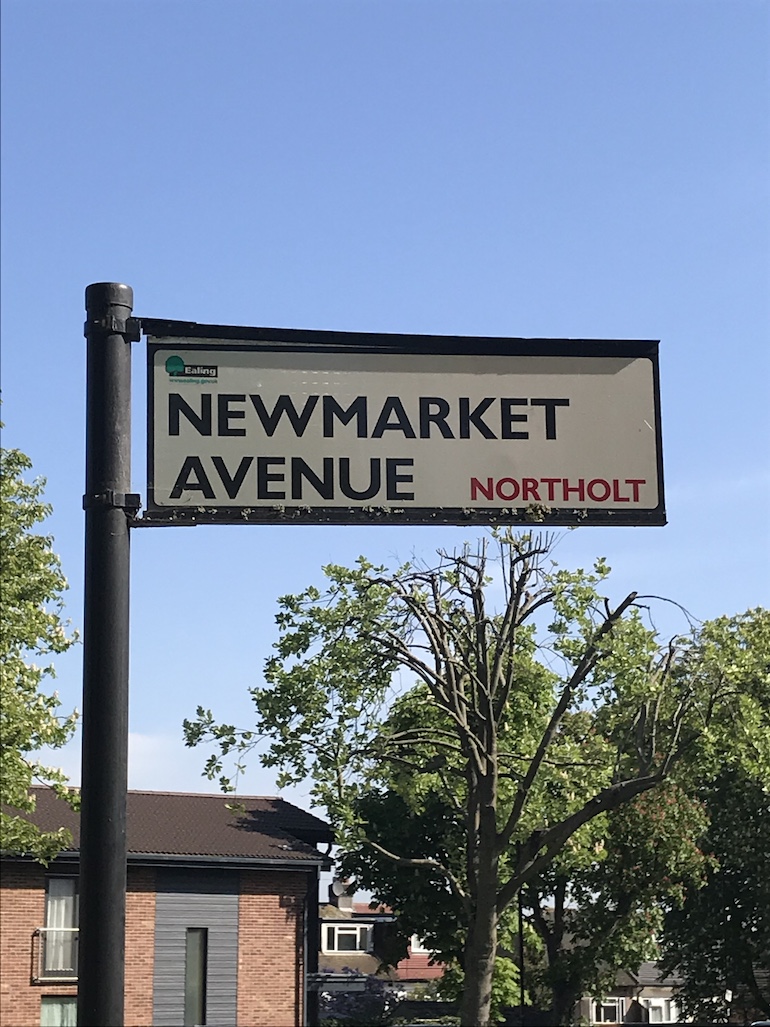 Street sign from the Racecourse Estate in Northolt. Photo Credit: © Steven Szymanski.